RoboCup kick-off: All events at a glance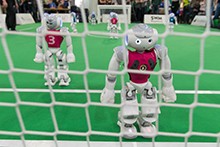 The robots are already hard at work. Over the next few days, and spread over 70 playing fields, teams compete with their robots in a variety of disciplines to qualify for the finals - and a chance to win the coveted trophies. The game schedule is now online and is updated daily, so you don't have to miss any competitions.
Whether you are still at home but already want to get some visual impressions of RoboCup, or would like to remember some of the moments after the event, you can also have a look at flickr.com. New images are added daily under robocup2016.
RoboCup has lots to offer
RoboCup is not just about attending events - visitors are also invited to participate and try out new things. To find out which robot workshops and outdoor games will entertain families during the robot competitions, go here.
As the meeting place for the scientific robotics and artificial intelligence elite, RoboCup offers scientists and experts the ideal setting for exchanging ideas with colleagues in the form of technical presentations and symposiums. An overview of the supporting technical program is available here.
Our young talent, on the other hand, will be interested in the concurrent MINT exhibition, which provides youths and students with a chance to meet their future employers. The forum "Recruiting for Mobility 4.0" (CCL, Forum Mobility 4.0) on 1 and 2 July is a special highlight of this recruiting event. Companies will demonstrate the close connection between robotics and mobility in exciting presentations and discussions. A separate event series targeted at young women will take place on Saturday, 2 July. Information about the forum is available at www.recruitingformobility.com.