Amazon Picking Challenge: Here are the winners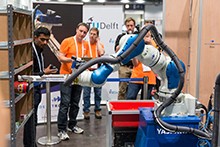 The big winner of the Amazon Picking Challenge was the Dutch team Delft. Competing in front a curious audience, the team from the Technical University of Delft beat out the competition in both Store and Picking categories. The prize for the winner in both categories: a total of $ 50,000. The NimbroPicking team from the University of Bonn also won in two categories, picking up second place in Store and third place in Picking, and took home $ 15,000. The Japanese PFN team, which won second place in the Picking category, also received a special prize, namely a couple of headsets. Their robot caused the most noise in Leipziger Messe's Hall 4 during the past few days. After the end of the competitions, the teams will have another opportunity to demonstrate their robots to visitors.
This was the first time that the Amazon Picking Challenge was held at the same time as RoboCup - the ideal complement to the application leagues.