Leipzig: Best Place for Robots and Friends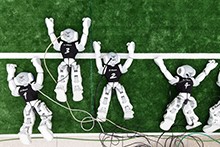 A total of 3,500 participants from more than 45 countries and regions came to RoboCup 2016. With them came more than 1,200 robots that competed in the disciplines Soccer, Home, Rescue and Industrial, and in the Junior leagues.
The participants and their autonomous robots were fired up from the first to the last minute, and cheered each other on. The following teams won their respective competitions:
See the detailed results: robocup2016.org/en/schedule-results/results
RoboCup Major: Soccer
Standard Platform League: B-Human, Universität Bremen, Bremen
Small Size League: MRL, Islamic Azad University of Qazvin, Qazvin
Middle Size League: Tech United Eindhoven, Eindhoven University of Technology, Eindhoven
Humonoid Kid Size: Rhoban Football Club, University of Bordeaux 1, Talence
Humanoid Teen Size: NimbRo TeenSize, Rheinische Friedrich-Wilhelms-Universität Bonn, Bonn
Humanoid Adult Size: Baset Adult-Size, Baset Pazhuh Tehran Co., Tehran
Simulation 2D: Gliders2016, University of Sydney, Sydney
Simulation 3D: UT Austin Villa, University of Texas at Austin, Austin
RoboCup Major: Rescue
Rescue Robot League: iRAP ROBOT, King Mongkut's University of Technology North Bangkok, Bangkok
Rescue Simulation Agent: MRL, Islamic Azad University of Qazvin, Qazvin
Rescue Simulation Virtual Robot: Yıldız, Yıldız Teknik Üniversitesi, Istanbul
RoboCup Major: Home
RoboCup@Home: ToBI, Universität Bielefeld, Bielefeld
RoboCup Major: Industrial
RoboCup@Work: LUHBots, Leibniz Universität Hannover, Hanover
RoboCup Logistics: Carologistics, FH Aachen, Aachen
Leagues continue to progress: Outdoor-Challenge, RoboCup Industrial, Referee Software
Several leagues took up the challenge of having competitions held under outdoor conditions. In the Soccer Standard Platform, a separate competition was successfully held on artificial turf under wildly fluctuating natural lighting conditions. Similarly, Middle Size Soccer also successfully implemented a Technical Challenge under these difficult conditions. Two other innovations created a lot of excitement in the Soccer category: The Humanoid League used artificial turf and real soccer balls. Three types of automated referee software were used in Small Size Soccer for the first time. They successfully refereed soccer games involving 22 players.
A competition under outdoor conditions was also implemented in the Rescue Robot League. Robots had to localize and remove victims in danger zones, and transport material to these zones. It was also the first time that flying robots took part in another technical test as part of this league. In addition, humanoid robots mastered new tasks such as opening doors, closing valves and using tools.
Another exciting innovation was demonstrated in the RoboCup@Work and RoboCup Logistics Leagues. These were combined under RoboCup Industrial for the first time; a joint competition with mobile robots highlighted key developments for Industry 4.0.
Toyota and SoftBank Robotics will provide robots for future RoboCup@Home Standard Platform Leagues
Hundreds of trade visitors followed the company presentations of the RoboCup@Home Call on Friday. Two new Standard Platforms will be introduced in this discipline for RoboCup 2017. While the current competition allows for the free selection of hardware and software, specific robots will be specified for these leagues in the future. Six well-known technology companies presented their robots, which are well suited for this purpose, and their advantages. "All of the company presentations impressive, leaving the RoboCup Federation with a difficult decision," says Prof. Oskar von Stryk, Associated Chair of RoboCup 2016. "We are pleased to announce that Toyota and SoftBank Robotics will be providing the robots for the RoboCup@Home Standard Platform Leagues starting next year."