Apply now as exhibitor

Get more information about our offers.
Review 2017

From February 5 to 8 in Leipzig: the inaugural get-together of the metal processing industry
Intec and Z are the flagship of Leipzig's industry trade fairs.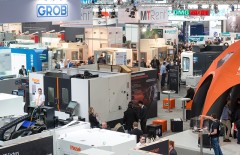 The trade fair combination takes place every two years and is the first important industry get-together for manufacturing technology in the metal processing and supply industry in Europe.
Focal points of the Intec include machine tools, precision tools, systems for upstream and downstream processes in the automation of production.
In combination with the Z - Subcontracting, which specializes in industrial supplies, the Intec covers the entire process and customer chain in production.
News
(04/23/2018) The trade fair combination is contributing to the collective booth 'Saxony Live' at the leading mechanical engineering trade fair in Russia.

(03/06/2018) Leipzig's industry trade fairs with good registration figures – Placement of stands begins already in April of this year

(10/27/2017) Opening its doors from February 5 to 8, 2019, Intec will be the first attraction on the trade fair calendar for the metal processing industry. Preparations are already started and registration forms are now available. Companies planning to be on hand as exhibitors can also register now online (Link).