Book accommodation
Hotel - for a comfortable stay in Leipzig at a central location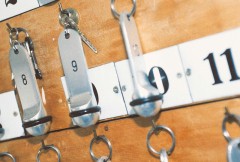 The Leipzig Trade Fair will be pleased to assist you with your hotel reservation.
We wish you a pleasant stay in Leipzig!
Hotel online booking
It is easy to book your accommodations online:
Alternatively you can send your booking request by fax or by post. Please use the reservation form for your event.
General terms and conditions
This is where you can find our current terms and conditions for the placement of hotel services as a PDF form.
Our service is intended for exhibitors and visitors of Leipziger Messe GmbH. Unfortunately, we are not able to consider bookings by resellers (travel agents)
Budget Accommodation – Youth Hostels, Vacation Homes, Camping
We recommend using the RoboCup 2016 Google My Maps to find your suitable accommodation:
Accommodations are divided into hotels, vacation homes, hostels and camping spots
The distance to the competition venue and to the city centre with numerous sights can be viewed in the map
Besides accommodations the map includes sights as well as places to eat and drink
You can book hotels via our online booking system. All other accommodations have to be requested directly. Contact information of the accommodations are included in the map.