Directions to exhibition grounds and accommodations in Leipzig
The quick way to Leipzig: By car, train, bus or air and a good night's sleep
Arrival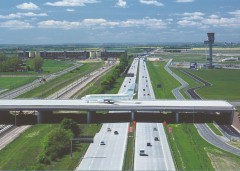 Leipzig is located in the heart of Europe. Leipziger Messe is easy to reach any way you choose - car, train, long-distance bus or by plane. Our grounds are located right by the Autobahn, near the Schkeuditzer Kreuz (interchange). The Leipzig/Halle airport is only eight minutes by Autobahn.
If you arrive at the Leipzig main train station with the ICE, you can take the regional train (Regionalbahn/RB) or the rapid transit trains (S-Bahn/MDV) to reach the "Leipzig Messe" stop in just six minutes. If you are coming from downtown, the tram will get to you the grounds in approximately 20 minutes.
Accommodations
The heart of Leipzig, just a few minutes walk from the main train station, is home to many comfortable hotels, ranging from luxury hotels to more competitively priced categories. A large selection of smaller hotels and bed & breakfasts rounds off the offering and ensures that you are well looked after - at prices that are still less expensive than in comparable cities.
If you prefer to be close to the exhibition grounds, then we have the right accommodations for you.