RoboCup @Home Standard Platform
This year the RoboCup Federation will select a new standard platform for RoboCup@Home. It will be used by all teams of a newly established @Home Standard Platform league starting in the following year. In the current @Home League, hardware as well as software can be selected freely. In response to the call for tender, the RoboCup Federation has received 11 very good proposals. Out of these, six finalists have been selected which will present their robots during this year's RoboCup. Afterwards the final selection will be made by the RoboCup Federation.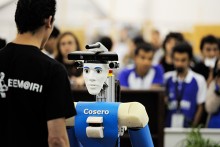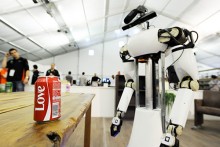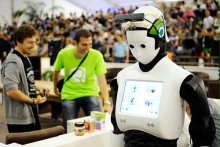 Demonstrations during RoboCup 2016
Six finalists were selected to demonstrate their candidate robotic platforms, among others:
SoftBank Robotics
Established in 2005, with offices in France, China, Japan and the United States, SoftBank Robotics creates social humanoid robots. SoftBank Robotics is a company of SoftBank Group, who holds 96% of its capital and has around 450 employees. We believe in a future where interactive robots will accompany humans in their jobs, their family life and in their hobbies. Our robots are available on the professional market and since June 2015 to the general public. Our goal is to make them available for everyone. Today we have three robots. All have a humanoid shape to facilitate communication. They are intended to be companion robots that can assist and interact with humans.
Pepper, launched in June 2014 in collaboration with SoftBank, is the first humanoid robot in the world capable of recognizing main emotions, exploring and reacting to his environment proactively. Pepper is well equipped with features and a high level interface for communicating with people around him. Pepper analyzes expressions and voice tones using the latest advances in voice and emotion recognition. Today, Pepper is only available in Japan. He welcomes, entertains and informs visitors in SoftBank and Nescafe stores and is available to consumers since June 2015.
IIT (Istituto Italiano di Tecnologia)
In January 2015, IIT (Istituto Italiano di Tecnologia) started a new project with the goal of designing and producing an innovative humanoid robot platform, directed at the improvement of the quality of everyday life. Ambition of IIT is to develop a first example of personal humanoid, able to get into our homes and help people in their daily lives.
To bridge the gap between research and market, the project adopted an aggressive price tag policy. The ballpark figure for the final cost of the robot is in the range of a family car and, possibly, when produced in large quantities, a significantly lower one. At RoboCup2016 IIT will be presenting the result of this project: the novel R1, two armed, 28 DOF platform endowed with force and tactile sensing.
Istituto Italiano di Tecnologia is a private-law foundation established by Italian law and based in Genova (Italy). Its aim is to promote excellence in science and technology and to facilitate the economic development at national level. IIT's staff is of about 1440 people, 45% of which are researchers from abroad. The average age is less than 34 years. The main areas of research are robotics, new materials, and health technologies. IIT has produced more than 6000 publications and 172 inventions, and its activity led to the creation of 14 start-up companies. IIT is planning the development of a specific spinoff of the Humanoid Division to set up a company that able to present an innovative value proposition on the market, capable of bringing the Humanoids in our lives.
KeJia
KeJia Standard Robot Platform is a commercialized product of robot KeJia, which has been used in the annual RoboCup@Home competition since 2009 with outstanding achievements---a champion and three runners-up in the past 5 years. After the 8-year evolution through practical use in competition, research and education, now the platform is suitable for both specialists and newcomers in Robotics and related fields. It provides easy-to-use functionalities and tools in a way that users can develop their own application much easier, instead of doing it from scratch.
Kinova
Kinova designs and manufactures platform and components that are simple, sexy and safe empowering researchers to develop breakthrough applications in service robotics.
PAL Robotics
PAL Robotics is a disruptive company, specialized in manufacturing robotic systems aimed at improving people's quality of life. The origins of the company go back to 2004, when a small group of engineers started developing humanoid walking biped robots. With more than 10 years of experience in research and development, PAL Robotics is currently known for commercializing REEM and REEM-C humanoid robots, as well as a wide range of modular robotic components like the mobile base PMB-2. The team is composed of passionate engineers and designers who are able to provide highly integrated and reliable solutions for service industries and research institutions.
The latest development by PAL Robotics is TIAGo, a compact mobile manipulator with navigation, perception, manipulation and HRI capabilities. TIAGo has been created in order to become the best robotic help for research in areas like domestic assistance, healthcare and collaborative tasks in Industry 4.0. TIAGo is able to perform indoor navigation thanks to its 2D laser range-finder, sonars and RGB-D camera. The robot has a large kinematic workspace for manipulation thanks to its prismatic torso and its 7 DoF arm. The arm can be controlled in position and current modes. Furthermore, a 6-axis force/torque sensor can be integrated at the end of the wrist which enables admittance control. The end-effector is modular, it can be a parallel gripper or a 5 finger underactuated hand. The RGB-D camera mounted on the 2 DoF head enables cutting-the edge perception features, complemented by stereo microphones and a speaker to perform HRI. The robot comes with a set of expansion options like a laptop tray and a user panel with USB and Ethernet ports and a power supply connector. The full specifications of TIAGo can be downloaded from here Last but not least, TIAGo is 100% ROS enabled to let your research start right away. Discover some of TIAGo's capabilities in the video of demonstrations shown at IROS 2015 where both TIAGo prototype and PMB-2 were presented.
TIAGo is PAL Robotics' candidate for the Robocup@Home Standard Platform because TIAGo adapts to your research needs, not the other way around.