Sights
Leipzig is unique: From Auerbachs Keller to the Völkerschlachtdenkmal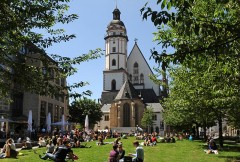 Leipzig has music in the air - famous names such as Johann Sebastian Bach, Felix Mendelssohn Bartholdy, Robert Schumann and Richard Wagner are in some way connected to our city. Walk on the "Leipziger Notenspur", and experience 800 years of music history and learn more about the residences and workplaces of famous composers, such as the Thomaskirche.
With a 600 Jahre alten Universität that was established more than 600 years ago, Leipzig is also the city of thinkers, and a metropolis of philosophers, scientists and not least poets. Also worth a visit is the new Uni-Campus Augustusplatz mit dem Paulinum in the heart of the city!
Johann Wolfgang von Goethe, who studied in Leipzig from 1765 to 1768, immortalised the Auerbachs Keller with the scene "Auerbachs Keller in Leipzig" in his work "Faust". A visit to this world-famous place, which is located in the Mädler-Passage and in particular the historic Fasskeller, is a must. Take your time through this elegant Passage, which was commissioned by councillor of commerce and suitcase maker Anton Mädler (built in 1912 - 1914) - it is a superb example of Leipziger Passagenarchitektur.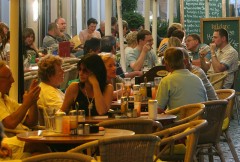 But Leipzig is more than a city of passages; it is also a traditional oasis for coffee lovers: It is home to one of Europe's oldest and continuously operated café-restaurants, "Zum Arabischen Coffe Baum", where composer Robert Schumann and Leipzig literature professor Johann Christoph Gottsched drank their "Schelchen Heeßen" (a hot beverage). An interesting museum, which is located in the same house, is not just of interest to coffee lovers, but also tells the 300 year history of Saxon coffee culture.
For more history, visit the Völkerschlachtdenkmals. This colossal 91 metre high monument rises in a historic location and commemorates the Battle of Nations of 1813. It was inaugurated in 1913, not far from Napoleon's command centre in the middle of the former battlefield. It also offers excellent panoramic views of Leipzig.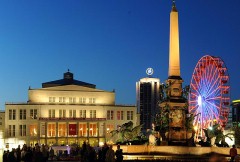 One of the original locations of the Peaceful Revolution in 1989 is the Nikolaikirche, one of the city's oldest churches. It was the site of the Monday peace prayers, which formed the starting point of the Monday demonstrations in the fall of 1989, and paved the way for German unification. Bugs, sensory samples, forged stamps and mail-opening devices: authentic insights into the work conducted by the Stasi, East Germany's Ministry for State Security, can be found in the memorial site museum in the "Runden Ecke. Leipzig's district administration for state security was based in this building from 1950 to 1989.
Take a walk through Leipzig to see more fascinating Leipzig museums and collections - for example the permanent exhibition of the Stadtgeschichtliches Museum im Alten Rathaus, one of Germany's most beautiful renaissance buildings, the modern Museum der bildenden Künste or the Art déco jewel Grassimuseum, which was built between 1925 and 1929, and which is home to three interesting museums.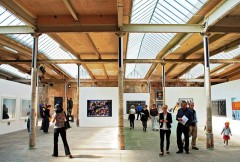 Leipzig's current art scene can be found in the Galerien der Spinnerei on the premises of what was once continental Europe's largest cotton spinning mill.
Also worth a visit is Zoo Leipzig and the Gondwanaland tropical world, whose exotic animals and plants will take you on an expedition into the rainforest. And if you are looking for water, surfing or swimming, you do not have to go far: Just in front of the city, Leipziger Neuseenland is the ideal destination for sports enthusiasts and those seeking some well-deserved rest and relaxation.