Leipzig: A great past and a promising future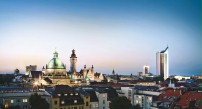 Johann Wolfgang von Goethe already praised Leipzig with the lines "Mein Leipzig lob' ich mir". Art and sciences, trade and creativity - culture, the spiritual and money have long enjoyed a fruitful symbiosis here in Leipzig. This is because the concept of global networking has a long tradition in Leipzig, one of the world's oldest trade fair locations - it has long been a place for trading goods, but also knowledge and ideas.
City of people, city of books, city of trade fairs, city of universities, city of heroes, city of culture, creative hotspot, economic centre, and a centre for knowledge - Leipzig fits many labels, and has even more faces that belong to this Saxon metropolis. Not so long ago, Leipzig was the starting point of the Peaceful Revolution.
Today, Leipzig is livelier than ever. Well-known companies such as Amazon, BMW, DHL and Porsche have settled in this business location. Leipzig's research centres are among the world's top scientific institutions. World-class artistic highlights include the Gewandhausorchester, the Thomanerchor and the Neue Leipziger Schule with Neo Rauch.
Come to Leipzig, and learn more about the home of Leipziger Messe and the special atmosphere of this city!
Finding your way around the city is easy with our City Map.
In Leipzig, there is also much to do after the trade fair – from music to off-theatre.
Leipzig miscellaneous, beer (Gose) and gourmet temple: Our Restaurant Guide shows you the way to excellent dining.
Official Leipzig: Leipzig.de for comprehensive information about our city.
Some things you just have to see: Leipzig's main attractions at a glance.
A good night's sleep in Leipzig: Information on hotels and online reservations.