Leipziger Messe: Space for contemporary masterpieces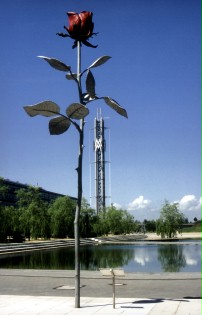 Discover top-class contemporary art works in the buildings and open grounds of Leipziger Messe - including the "old masters" of conceptual art Daniel Buren, Dan Graham, Sol LeWitt and Niele Toroni. These international artists developed their concepts ranging from murals and installations to the design of functional areas especially for the new Leipziger exhibition grounds, which were opened in 1996.
Passengers rushing by the final stop of the Messestraßenbahn Line 16 are surprised to see the concrete works by Peter Fischli und David Weiss. This work integrates into its environment almost by accident. Olaf Nicolai integrated his work into the floor of the spectacular Glass Hall, while Jorge Pardo designed the "International Business Lounge" as a location for business meetings.
The "Truisms" of American installation artist Jenny Holzer light up the area above the cashiers in the West entrance with electronic banners. To the front of this installation, we are greeted by the eight metre high metal rose of artist Isa Genzken, which acts as a counterpoint to the imposing steel-glass structure.
A lighting installation by Angela Bullochs, which is located in the connection tubes between the Glass Hall and East Entrance Hall and to Halls 4 and 5, reacts to the movement of the trade fair visitors. Hanno Otten created a series of monochrome colour panels for the Congress Center Leipzig, while Günther Förg selected the 16 metre high side walls of the elevators in the atrium of the administration building for his large-scale colour designs. Subtle text works are provided by Stanislaw Drózdz and Thomas Locher.
Walking through the Messepark, you will be surprised by a series of walls painted in blood red – Rirkrit Tiravanija's "Flipper Wall for Palermo" as a homage to his colleague Blinky Palermo, who was born in Leipzig - while Martin Kippenberger's "Metro Net": the station of an imaginary global subway network invites you go on a journey of thought.
The project "Kunst in der Leipziger Messe" was curated by Brigitte Oetker, Christiane Schneider and Mechthild von Dannenberg.
This is where you can find the various art works and their locations on the exhibition grounds.
With the series "Kunst im Atrium", Leipziger Messe supplements the project "Kunst in der Leipziger Messe". We continually provide information on the current exhibition in the atrium of our exhibition building.
You can also register for an art tour around the exhibition grounds.