Leipziger Messe group of companies: A best practice example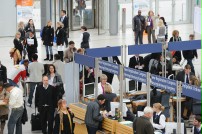 The "Balanced Growth" sustainability campaign and Green Globe certification are impressive examples: The Leipziger Messe group of companies is repeatedly chosen as a best practice example.
The Stiftung Jugend und Bildung (Foundation for Youth and Education) used Leipziger Messe as a model for an instructional film. Commissioned by the Federal Department of Agriculture, the foundation produced a five-minute contribution on the theme of "Corporate Social Responsibility" (CSR). This film is targeted to students in Year 8 and above, and is shown in schools across the country as part of the "MitVerantwortung" teaching unit.
CSR refers to a company's voluntary acceptance of societal responsibility with respect to social and ecological matters. The film shows that CSR is anchored in the corporate strategy of Leipziger Messe, and that it is practised as part of daily work life. The film focuses in particular on environmental protection, the reduction of CO2, the handling of resources and social commitments.
The AKAD/Leipzig distance-learning institute also selected Leipziger Messe as a best practice example for sustainability. A group of students visited the exhibition grounds and experienced the "Balanced Growth" principle on location. The concept has also garnered attention outside of Germany: A delegation of the Chinese Ministry of Trade obtained information on the group's commitment to sustainability.