The Free State of Saxony: An innovative business location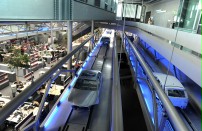 Saxony has a long tradition as a cultural region and business location. Its industrial origins go back centuries. Today, the Free State is one of the most dynamic federal states in Germany. About a third of the entire economic output of the new federal states (without Berlin) is generated in Saxony. Saxony's economy grew by 13.9 percent since the year 2000 (to 2010) (as at March 2011). With an investment rate of 19.0 percent (2011), Saxony leads all other federal states.
Saxony's strength lies in the diversity of its industries - from machine building and the automotive industry to microelectronics/IT, environmental technology and Life Sciences. Companies benefit from well-functioning networks and an excellent research environment. Similarly, in recent years Saxony has convinced many businesses to settle here due to the availability of highly-qualified experts, a modern and efficient infrastructure and an expeditious and reliable administration.