Art in the atrium: Leipziger Messe as an exhibition platform
Leipziger Messe has offered artists a temporary exhibition platform since 2011, and thus is able to connect art, architecture and the trade fair business at a high aesthetic standard. At the same time, the company establishes a bridge from industry to the world of art with visiting exhibitions in the atrium of the trade fair building.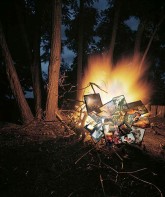 Currently: Exhibition "SEIN SCHEIN NICHTSEIN" by Anett Stuth and Simon Rübesamen
The art exhibition "SEIN SCHEIN NICHTSEIN" revives the artistic side of the convention centre to start the year. The interplay of different artworks from Anett Stuth and Simon Ruebesamen, in collaboration with the Kleindienst gallery of Leipzig, transforms the foyer of the convention centre into a free art space. Anett Stuth presents conceptional photographic works. Simon Ruebesamen fills the space in-between with cultures of complete indefiniteness.
The exhibition "SEIN SCHEIN NICHTSEIN" can be viewed in the atrium of the Messehaus from 8 February to 27. May 2018.