Exhibit: Leipziger Messe in the museum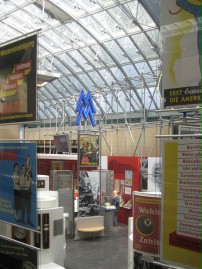 With a history of almost 850 years, Leipziger Messe has become a source of inspiration for numerous exhibit organisers. The permanent exhibition at the Stadtgeschichtliche Museum Leipzig in the Altes Rathaus (Old City Hall), contains numerous exhibits and extensive information on the history of the trade fair. In the section "Moderne Zeiten. Von der Industrialisierung bis zur Gegenwart" (Modern Times: From industrialisation to present), Leipziger Messe is represented with its own area in the "City themes" segment.
Visit the Stadtgeschichtliche Museum Leipzig.