Experience the Glass Hall: A bold sweep towards the sky, Mediterranean flair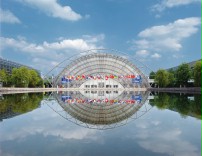 The spectacular Glass Hall at Leipziger Messe is the perfect symbiosis of history and modernity. 25,000 square metres of glass reach up into the sky as part of a grandiose arc that is harnessed by an imposing steel structure. At around 30 metres in height, 238 metres in length and 80 metres in width, it is Europe's largest full glass hall, and offers plenty of room for spectacular events with a capacity of 4,500 persons.
This universe of glass was conceptualised by Hamburg's architecture firm von Gerkan, Marg & Partner, and designed by London star architect Ian Ritchie, who was also involved in the construction of the glass pyramid at the Paris Louvre.

The Glass Hall offers a transparent and visionary interpretation of the trend-setting architecture of the 19th century with a contemporary twist, and is also a symbol of the modern business world. It is based on the magnificent crystal palaces of the past, such as Joseph Paxton's legendary "Crystal Palace" for the 1851 International Exhibition in London. It was also inspired by the inviting generousness of the monumental cupola hall of Leipzig's main train station, which features an enormous glass roof.
On a technical level, the arc design of the Glass Hall is also a masterpiece. A special glass was developed for the 6,546 glass panels, which retains its transparency despite a thickness of 20 millimetres and does not take on a greenish colour - as would be the case with normal float glass. The applied technology of overhead glazing is referred to as "Structural Glazing".
In the winter, the naturally ventilated hall maintains a Mediterranean climate which allows for permanently green vegetation similar to a winter garden. Hence it features a magnolia grove that ensures a thoroughly Mediterranean flair.
Would you like to know more? An overview of the Glass Hall and its furnishings can be found below.