Arriving by car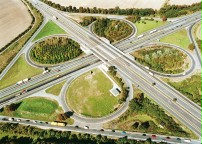 Our exhibition grounds are well marked, and you can reach the grounds quickly by taking the Autobahn:
A 14 – exit Leipzig Messegelände,
A 9 Schkeuditzer Kreuz – ten minutes by car,
A 38 Kreuz Parthenaue – ten minutes by car.
The national highway Bundesstrasse 2 will take you from the exhibition grounds to downtown Leipzig in just ten minutes.
Please note:
Leipzig has been designated a city with an environmental zone since 1 March 2011. This does not include Leipziger Messe and the airport.
Additional information for your arrival:
Arrival and parking
When looking for a parking space, feel free to use our dynamic parking guide system that will quickly lead you to open visitor parking spaces.