Leipziger Messe in the open: From green oasis to outdoor exhibition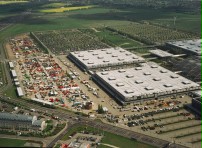 The Leipziger Messe open grounds offer space for business activities as well as communication and relaxation periods.
Approximately 70,000 square metres of open grounds can be reached from the trade fair halls. They offer space for extending exhibitions into the open air - for large exhibits, outdoor or sports themes.
The grounds around the Leipziger Messe buildings feature a lot of green space. Approximately 5,600 trees, 23,000 bushes, large grass and water areas, combine the exhibition and park landscape into one. For example, the Pocketpark between the Glass Hall and eastern entrance hall offers a break from busy trade fair activities.
The Messepark, which adjoins on the East between the parking spaces, is home to a "Geopark" with foundlings from the Ice Age - the largest weighing up to 6.2 tonnes. They were excavated during the earthworks for the construction of the exhibition grounds. They are estimated to be between 270 million and 1.7 billion years old.
On the western side, we find the Messesee - also called the Merkurbrunnen - which extends from the exhibition forecourt with the tram turning loop up to the West entrance at the front of the Glass Hall, with approximately 8,500 square metres of water surface.